Collateral Damage
by
Elisabeth Grace
on February 19, 2015
Genres:
Contemporary
,
New Adult
,
Romance
Now trending.
Hollywood It Girl, Francesca Leon, has just landed the biggest role of her career…one that could clinch an Oscar nomination and open doors. If she's going to move her career to the next level and work with top directors, she has to nail this part — and keep her sexy, but unreliable leading man from screwing everything up.

Team Calder
Bad boy Calder Fox is the son of Hollywood royalty and fresh out of rehab after his best friend's death sent him on a downward spiral of drugs and alcohol. While his fans still love him and the paparazzi stalk him, he's never taken life, or anything about his career, seriously. He may be charming and drop-dead gorgeous, but if he doesn't stay sober, he could ruin Frankie's future and expose her long-hidden family secret to the voracious media.

Behind the scenes.
Things heat up during filming and have the potential to become hotter, deeper, and much more real. But can Frankie trust Calder with her secret? Or is he doomed to sabotage his own happiness yet again?
Casey Says….
Let me start off by saying, Collateral Damage is the first book by Elisabeth Grace that I have read. However I do own all the others and they just took a quick trip to the top of my "to be read" list.
Hot, up and coming actress Francesca "Frankie" Leon is dedicated to making it to the top. She is focused on her career, making a name for herself and most importantly keeping her private life private.
Hollywood starlight- Calder Fox, born with the proverbial silver spoon in his mouth, has had a past of partying hard and fucking harder….until one accident turns his world upside down. Determined to show the world that he is a rehabilitated man, yet just trying to make it one day at a time- Calder brings us through the emotional turmoil one deals with when they cannot let go of the past and allow themselves to have a future.
Thrown together to work on set…..much more than passion emerges between Frankie and Calder.  But make no mistake; they share a chemistry that lights the sheets on fire.
"He wrapped both of his large hands around my ankles, taking one leg and placing it on top of the couch and moving my other foot to rest on the floor below so I was completely exposed to him"
"You move your feet from where I put them, you try to close your legs at all and I stop. Got It?"
Keeping the focus on the love that was growing between Frankie and Calder, the sexiness in this book made for a scorching and tasty side treat.
What starts off as a farce for publicity fast turns into much more. Watching Calder come to terms with what he is feeling for Frankie made my heart skip a beat. Seeing these two open up and support each other through each their own personal hell was beautiful to read. Such a true and realistic relationship, written so that it gives you the ability to feel every emotion as it pours off the pages.
Elisabeth Grace has fast made herself a favorite of mine.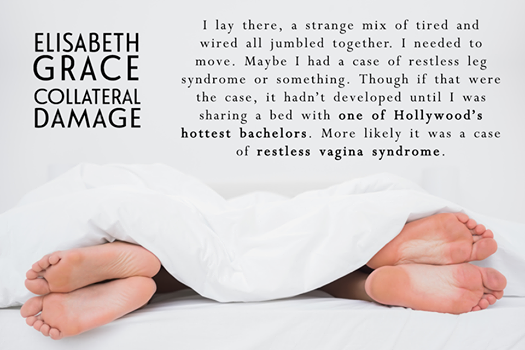 Related Posts